This winter, after more than 50 years representing the Ministry to Seafarers, it was time to reimagine our logo. To stay aligned with the CRC, we began by studying what other ministries have done such as World Renew, GEMS, Resonate and Youth Unlimited. Then we considered our own journey. When M2S first launched it was primarily to serve Dutch seafarers docking in the Port of Montreal. Today, our identity is broader because we serve seafarers from all over the world and from all faiths. Our new logo emphasizes Montreal (in English and French) and the domain in which we work. While our message has not changed, our methods have. At M2S we often say, "Find out where God is already working and join him there." We hope and pray that our refreshed identity will open new doors in our community, that all seafarers will feel included in what we do, and that you will too.

About our logo, we have to ask, "Do you see a cityscape or a ship's bow?"

We sincerely thank our graphic designer, Paul Harman, for turning our elementary sketches, hand gestures and vague verbal descriptions into a beautiful design. He has been a gift to our team.
New App for Seafarers and Supporters
Today, every seafarer comes to the Seafarers' Centre with phone in hand and the ability to communicate in many different ways: calls, texts, emails, video chats and more. (Did you know that seafarers do not always have access to the Internet while they are at sea?) We have never been more connected and yet, loneliness remains one of the top challenges for seafarers.

As part of reimaging our identity, we want to leverage technology. The key to alleviating loneliness is relationships—with God and each other. Larry Crabb, in his book called Connecting, says, "We were designed to connect with others: Connecting is life. Loneliness is the ultimate horror. In connecting with God, we gain life. In connecting with others, we nourish and experience that life as we freely share it."

We've noticed that we have better engagement with seafarers who know us. So this month we're launching a one-year trial of the M2S app that is designed to reach more seafarers and keep connected to them, even when they are not in our Port. The app will help seafarers schedule a pick-up, allow us to read the Bible together and share questions/comments, generate and broadcast media content that seafarers can download (like the TODAY for Seafarers devotional), invite them to our seafarer events, receive prayer requests and send them a welcome message when they're in port, inviting them to drop in.

The app is also designed to connect us with our supporters. You'll find everything you need all in one place and have a better idea of what we're regularly up to. You can also benefit: download our media, learn about volunteering, join a Bible study or sign up to pray with us. Stay tuned for our official launch date!
Thank you to
Gerard Bondt, Doni Owens, Binui Ndofor, Jeffrey Mackie-Deernsted, Mustafa Altun, Hans & Cathy Vink, Evert De Boer, Mario & Wendy Pinto
and
Sheila Margerrison
for helping move the mission forward.
We sadly said goodbye to
Sean Morgado
who finished his studies and returned to Toronto. Interestingly, Sean was referred to M2S by a former M2S volunteer who, once he found out that Sean would be studying in Montreal, told him to look us up. We're sure glad he did!
If you'd like to volunteer with us, please get in touch. We have a volunteer apartment and we provide training and a free transit pass. Contact
Patty
.
In March, we participated in
McGill University's Job Shadowing
program and two students from Religious Studies,
Jeffrey
and
Binui
, spent several days with us. After his experience Jeffrey said,
"I learned so much in just three days. It was inspiring to see this ministry in action and how God has called the people we met to serve those who come to the Port of Montreal."
Three different student groups came to visit: Emmanuel Christian School, Woodland Christian High and Toronto District Christian High. After a tour of the Port and a talk about our work, we invited students to respond by painting Easter eggs, making cards and packaging them with a devotional. One seafarer opened his card in front of me and expressed such delight in receiving the gift. For one group, we invited volunteer, Doni Owens, to perform some spoken word from Ephesians 1 and 2.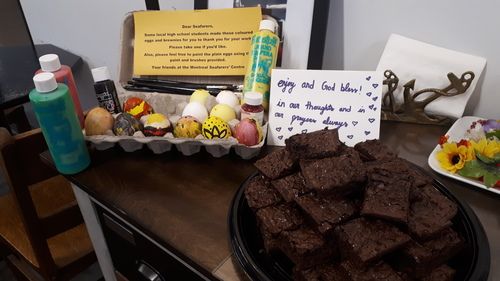 Thank you to Williamsburg, Kanata, Mountainview and Calvary Ottawa for your invitations to speak/present. In April we participated in the CSS Will Clinic for the first time. It was encouraging to see people taking their stewardship responsibilities seriously.
Over the winter months we organized two Games Nights and an Evening of Rest & Relaxation for seafarers. Seafarers were eager for a 15-minute chair massage. Afterwards, they commented, "I feel 40 again!" and "She has magic fingers!" Martha is a gifted therapist and prays for the seafarers while she works.

Please remember us on June 25th, the Day of the Seafarer. J'aime Montréal, the mission arm of La Chapelle church, will help us organize a celebration for seafarers. If you're in town, please drop in!
If you're considering a donation to M2S, why not time it for June? As part of the
Great Canadian Giving Challenge
sponsored by
Giv3
and
CanadaHelps
, every online donation earns us the chance to win a $10,000 donation. You can donate from our
website
. Your response last year exceeded our expectations and got our van fundraising efforts off to an encouraging start.
This June, all donors who make an online donation of $500 or more will receive a tuque with our new logo.
In October, our chaplains have the opportunity to attend the International Christian Maritime Association world conference in Taiwan. The most expensive part is the airfare. If you have a surplus of miles or loyalty points and would like to use them to purchase one of two tickets, please let us know. A tax receipt can be issued for the fair market value of the ticket. Contact
Michelle
.
Christmas Parcels: Boxes to Bags
REMINDER:
This year we're transitioning from boxes to bags for our Christmas parcels. We can either send you the quantity of bags you'll need ($1 ea.) or you can organize a fabric drive and ask some local sewers to make bags. Please
contact us
if you have any questions.
We praise God for:
- the positive creative process that resulted in the new logo
- the first "yes" to our grant applications
- lots of new, local volunteers
- the deeper sense of how God is working in our midst
- positive encounters with student groups and churches
Please pray for:
- the App development process
- staff, volunteers and our summer intern
- seafarers affected by earthquakes in the Philippines/the bombing in Sri Lanka
- funding for a new van
- Day of the Seafarer (June 25th)
- a blessing on our supporting churches and individuals